< Back to MixEmergency Tips & Tricks
Plug-ins - add Effects and Transitions
Did you know that you can download and install almost 100 extra effects and transitions for MixEmergency? All you need to do is to download and install them. Here's how...
Download and Install
After you've installed MixEmergency, download the latest effect and transition plug-ins from the plugins page.
Double-click on the downloaded zip file to extract all the plug-ins into a new folder.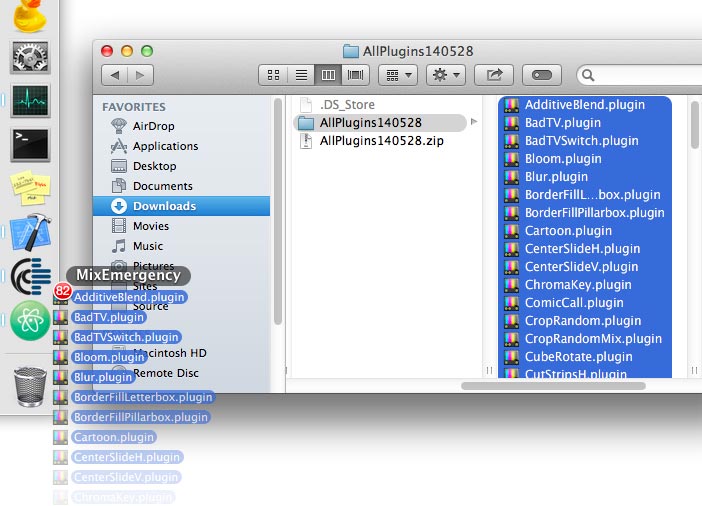 Select all the plug-ins (or just the ones you want to install) and then drag and drop them onto the MixEmergency application icon on the Mac OS Dock. This will copy the plug-ins into MixEmergency's Plug-Ins folder (~/Movies/MixEmergency/Plug-Ins/).
Next, restart MixEmergency. Check your effect and transition lists - you should now see all the new plug-ins that you have just installed.
Check back on the plug-ins page from time to time, or follow us on Facebook, to keep up-to-date with the latest effect and transition plug-ins for MixEmergency.
This tip was created with MixEmergency 2.6.0 and Mac OS X 10.9.3. Subsequent versions may differ.